Performances during the Street Fair
12:00 Drum 'n' Bounce
13:00 The Swing Era
15:00 Choir with No Name
Drum n Bounce (12:00- 12.30). Here's how drum n bounce describe themselves: Add a heap of energy, whip up some classic aerobic moves, then marinade in some drum & bass and …. Voila … you have the perfect session! We believe at drum n bounce & dubstretch that a good workout relies on banging tunes, so what could be better to keep you bouncing.
Like the sound of that? Come and join drum n bounce on the St Mary's Row sliproad at 12 noon. Everyone is welcome to join the fun !
www.drumnbounce.co.uk     Email emma@drumnbounce.co.uk
The Swing Era (13:00 – 13.30). The Swing Era is an exciting vibrant dance school in Birmingham teaching 6-week courses, drop-in classes and private lessons in vintage swing dance (including Lindy Hop and Charleston) and authentic jazz. With their passionate, talented teachers, round the year social dances and festivals, quirky venues across Birmingham and friendly open community of dancers, you need look no further! They will be inviting us to join them in dance in the performance space on St Mary's Row sliproad. To contact them please email  info@theswingera.co.uk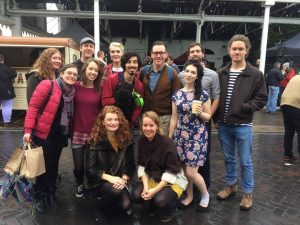 The Choir with No Name  (15:00 -15:30)
The Choir with No Name runs choirs for homeless people and other men and women on the edges of our society. They are a diverse bunch of people; male and female, black and white, big and small, young and not so young. They'll sing pop, rock, soul, reggae, musicals – you name it, they will give it a go. They get together to rehearse every week at Carrs Lane Church (with a decent dinner at the end of the rehearsal) and they perform regularly.
They also deliver singing workshops, motivated by a desire to share the joy of singing with as many disadvantaged people as possible (and hopefully recruit a few more choir members along the way!). Bucket collection at the end; all donations gratefully received towards the running costs of the weekly choir rehearsals.
For more information please contact Sally Debiage, Choir Manager, sally@choirwithnoname.org or 07794 100938.