Music and Song Concert, with the Moseley Village Band and the U3A Singers.
19:30 – 22:00      Thurs 14th       The Dark Horse, 145 Alcester Rd, B13 8JP
Moseley Village Band www.moseleyvillageband.org.uk brings you lively tunes in the style of the traditional English village bands, as played by country musicians of Thomas Hardy's time for dancing and for church services – they play them just for fun!   The band meets on two Thursdays each month and is open to all players of acoustic instruments.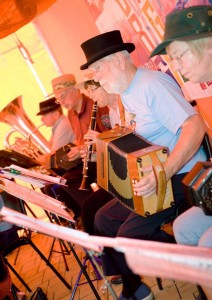 The U3A Singers have a varied repertoire including songs from the shows. They are always happy to welcome more singers at their rehearsals on Wednesday afternoons.  No auditions – you just need to be a member of the University of the Third Age.
Free entrance – more details at
www.tradartsteam.co.uk/calendar.html?a=viewevent&id=928 or phone Pam on 0121 247 3856.